Abalone earrings are a wonderful jewelry option. Since ancient times, humans have been using jewelry to adorn and accentuate their appearance. Though fashion trends have gone through numerous changes but jewellery has always remained as a strong fashion element. In the present scenario, women have got a plethora of choices in terms of jewelry. Apart from the conventional gold, silver or platinum jewels, we now have delightful options like abalone earrings, abalone necklaces and other abalone jewelry. The kaleidoscopic shell lining of abalone looks magnificent. Therefore, it has rightly been called the 'Mother of Pearl'.
Abalone jewellery looks simply stunning. Its remarkable visual charm has made it quite popular across the globe. The best part about such seashell jewels is that they go equally well with formal as well as casual outfits. In this article, we tell you about five strikingly beautiful abalone earrings that definitely add glam and charm to your personality.
Abalone Earrings with Swarovski Crystals & Amethyst
The blue and green abalone never goes out of style and demand. The beauty of this lovely jewel piece rises even more when combined with gems like amethyst. The above pair of abalone earrings exemplifies the same. These lovely earrings are set in sterling silver and small amethyst stones dangle at the base. The Swarovski crystal balls under the blue-green abalone highlight the terrific variegated beauty of abalone. Get yourself these astonishing earrings and get ready for compliments! These earrings go well with an indigo blue or aquamarine green costume.

Beautiful Combination of Abalone, Brass Beads & Pearls
Pearls look graceful. Brass beads look supple. Abalone reminds us of ocean colours. And the combination of all three of these looks awesome! These abalone earrings have been given a tear drop shape. The tear drop shape appears delicate and feminine. Apart from brass beads and white pearls, the blue crystals have also been used in this pair. Not only you may adorn yourself with these charming earrings but you may also keep gift them to your loved ones. These attractive souvenirs will always remind about your love for your closed ones!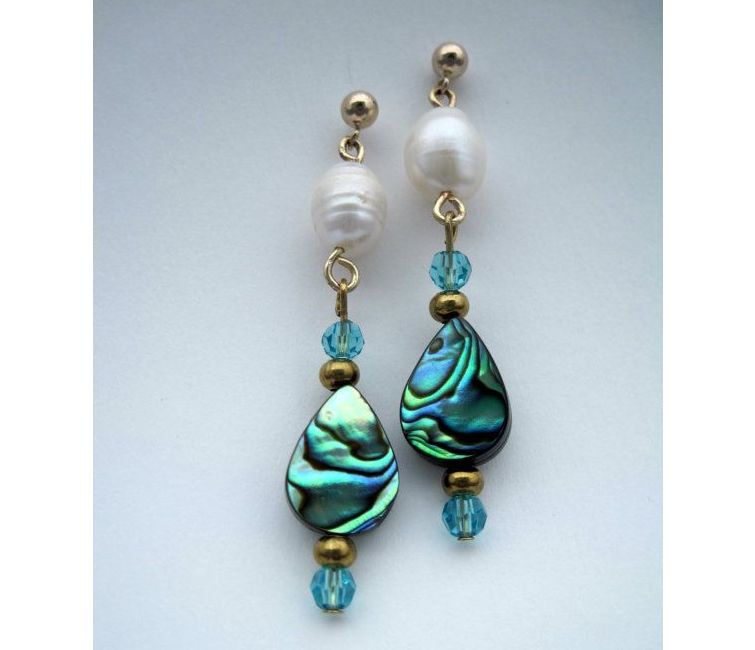 Feminine Pink Abalone Earrings
Other than the popular green and blue abalone, the pinks, purples and greens also look exquisite. As abalone is a natural product so no two pieces of earrings are absolutely same. In different lighting and from different angles, the patterns of these earrings always look new and creative. These pink abalone earrings have got a lustrous surface. You may also notice purple and green shades on them. So many glittering and sensuous colours and that too in one palette! This colourful palette definitely reminds us of enchanting sunset colours. This is the beauty and marvel of abalone!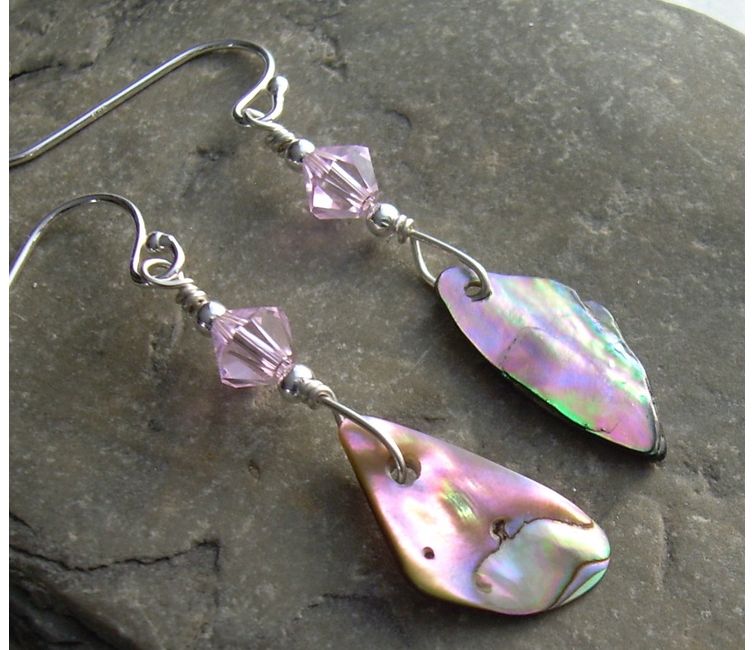 Square Shaped Abalone Earrings
If you are tired of wearing the round and oval shaped earrings, try these square shaped abalone earrings. The multi-coloured abalone inlay captivates anyone's attention at the very first sight. Apart from the natural colours, these shells can be bleached in various colours too. But these processes never affect the shimmering beauty of these abalone shells. As abalone finds place in the latest fashion trends, these earrings are a must-have for your wardrobe accessories.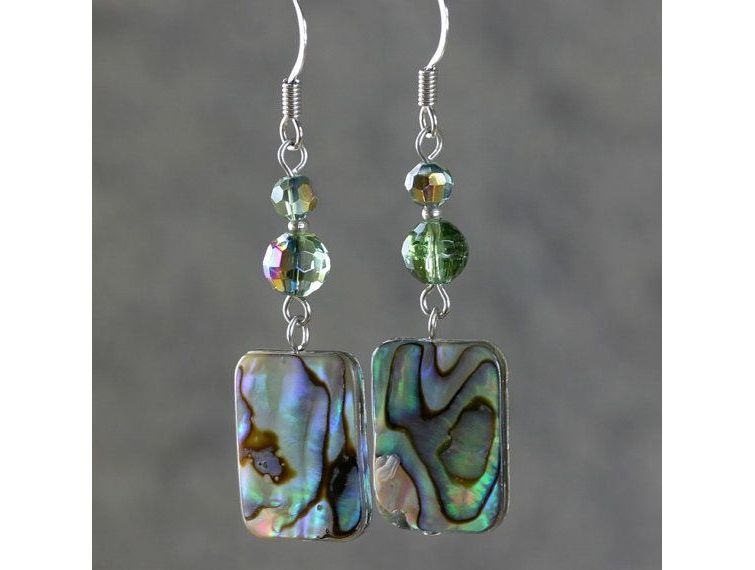 Abalone Earrings with Pearls and Diamonds
When abalone is combined with diamonds or other gems, the ultimate result is really awesome. Just take a look at these beautiful diamond, pearl and abalone earrings which have got brilliant lustrous effect. These earrings gel perfectly well with your party costume.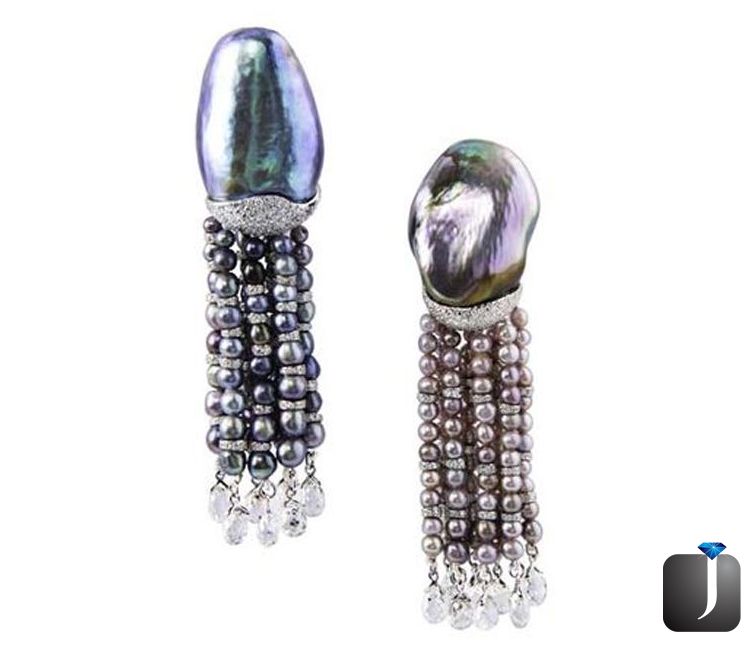 Abalone jewellery is simply mesmerizing. It is one of the best ocean treasures which nature has bestowed upon us. Donning abalone jewels is a unique way of adding glamour and style to your attire. The sheen and beauty of abalone jewels inexplicably attracts trail of eyes. Apart from the beauty factor, the abalone shells are also known for their power of emotional healing. These precious shells also aid in digestion and benefit our hearts too.
So get yourself these versatile colourful shells, avail all relevant advantages and look your best with these charismatic abalone earrings.