If you have a fetish for trendy jewellery, you ought to possess some fine looking gorgeous abalone bracelets. From gaudy glittery patterns to feminine petite types, abalone bracelets are available in eclectic variety. The stylish cool looking straps and carefully encrusted beads, diamonds and gemstones make these bracelets look rich and attractive. Just go through the list of our chic abalone bracelets that display elegance and style.
Abalone Bracelet with Swarovski Crystals
As abalone bracelets are available in surplus variety, you can always find a piece that suits your desires and gel well with your taste. This bracelet consists of abalone shells, Swarovski crystals and beads. All three of these together give a trickling effect. The marine blue and green hues provide a cool and calm feeling to the eyes.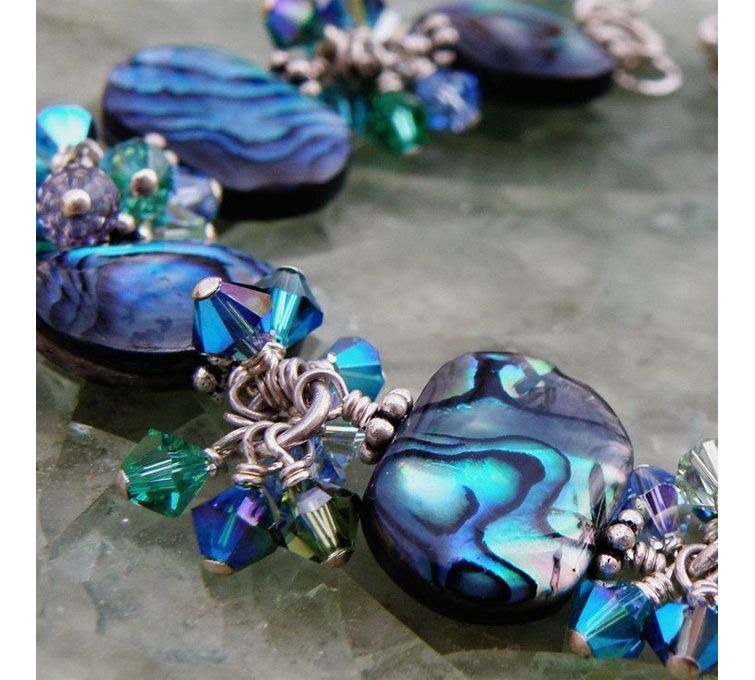 Single Bangle Bracelet
Simply speaking, very simple and sober, very feminine and just beautiful! A plain silver bangle is attached to an abalone shell that has been given a round shape. Always add up such cute abalone bracelets with a tiny abalone pendant and see how people go gaga over you!
Abalone Bracelets with Leather Straps
An eternal piece with a distinctive pattern! As you may clearly observe, the design of this bracelet is inspired from a corset. The square shaped abalone shells are fitted to a leather strap with the help of plain brown hooks. The whole idea is wonderful and makes the bracelet look like a mini corset.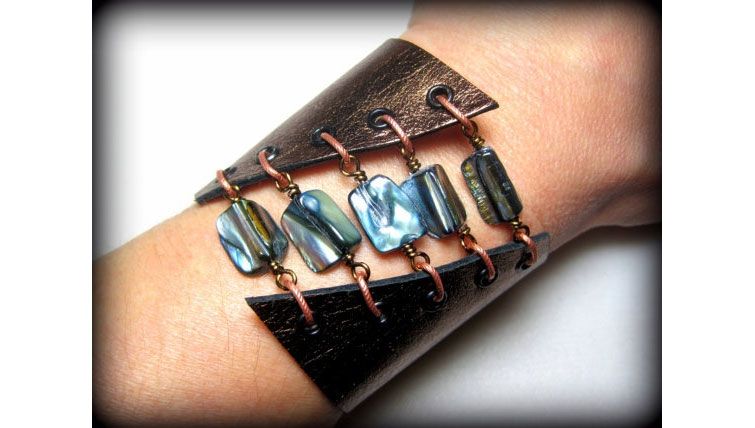 Clamper Pattern with Multiple Colours
Are you looking for abalone bracelets that yield an ethnic look? Try this enthralling clamper pattern bracelet. The biggest advantage of such multi coloured abalone bracelets is that they can be paired with any attire irrespective of its colour. The pattern of these blue, green, yellow and violet tints keep changing when looked at from different angles. That's the beauty of abalone! That's the power of nature!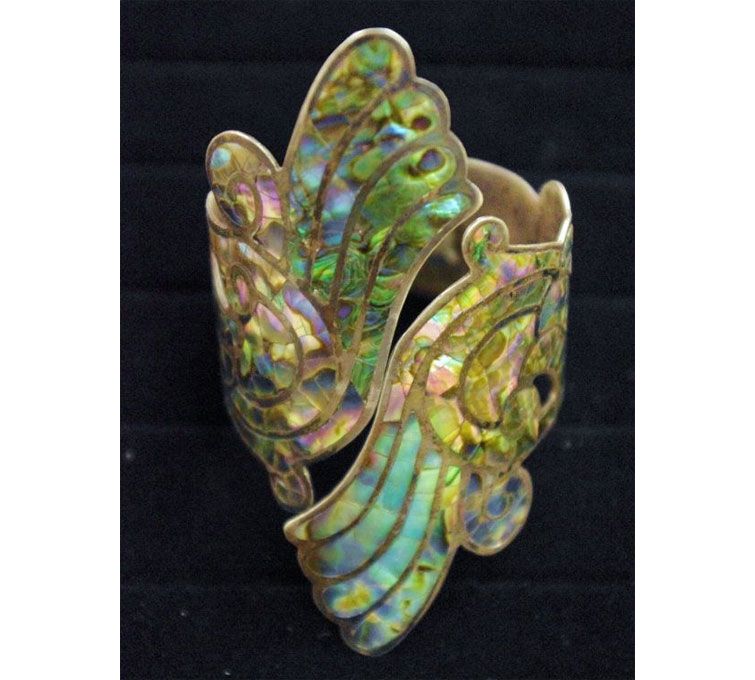 Rich Looking Bracelet with Abalones, Pearls & Diamonds
This is a piece to die for! Use this bracelet to enhance the beauty of your delicate hands. Dazzling diamonds and white pearls have been creatively encrusted in this beautiful bracelet. The abalone shell used in this particular piece has got a nice lustrous finish and a perfect cut. This is a perfect piece which can be donned on a party occasion or upon a festive day. It looks rich and glamorous.
A Variant with Unique Pattern
This one is totally different from others. But that never means it is less in beauty than other varieties of abalone bracelets. A fragile chain attaches two abalone shells in this bracelet. One of these shells is provided at the finger and the other one lies over your delicate wrist. This is a perfect choice for those who want to try something very fashionable and trendy.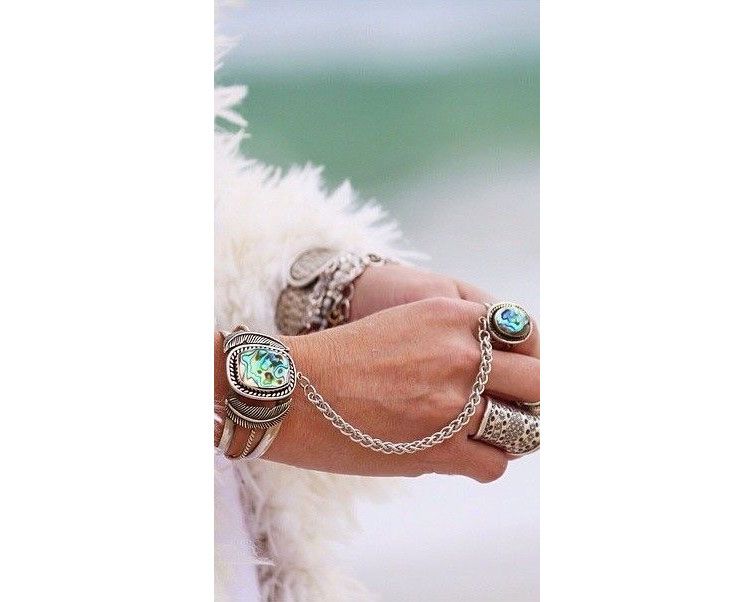 Stunning Pattern with Multiple Flowers
All the abalone bracelets share a common factor. All of them look attractive and make YOU look attractive too. Just try out this fabulous bracelet which has got several flowers shaped abalone paua shells. You can also use this bracelet as a gift for someone you admire, someone whom you love!
The glimmer and beauty of abalone bracelets is forever! The rich and variant colours of abalone not only look wonderful but they also make you look and feel lively as well as energetic. A sober bracelet can also be worn at a workplace while a stylish bracelet with crystals and shells can always be tried upon on a casual day. The crux of the matter is that women love jewellery because it accentuates their beauty. Abalone bracelets not only make you look stylish and modish but they also make you feel great.