Red in hue, Coral gemstone stands for the power of blood force and the life. The dark shade of this alluring charm is often used for simulation and also for heating the bloodstream.
Today we will check out damn hot jewel pieces embellished with coral gemstone which you won't like to miss. Before that let's have a discussion on some of the rare benefits of coral gemstone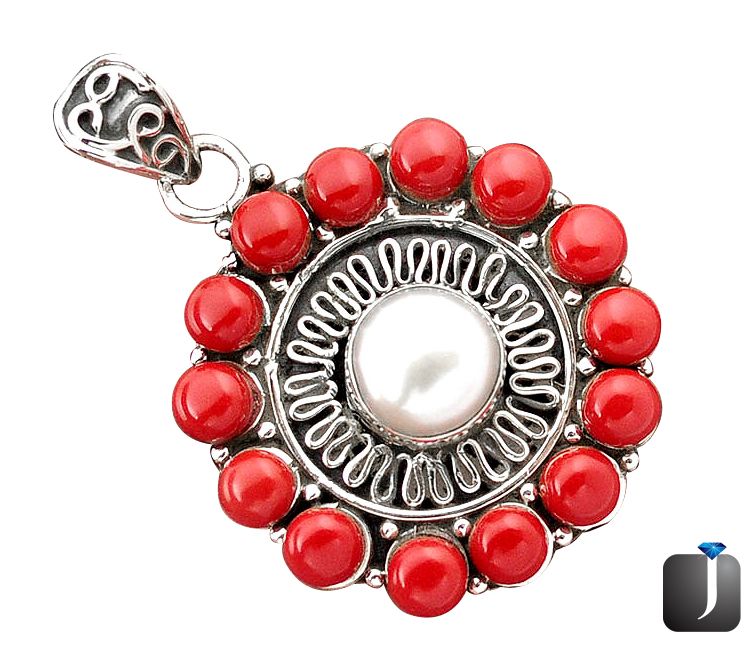 .
When we talk about the pink hue of Coral, it restores the harmony and accord to the owner's heart. It is too employed as the best charm for deficient nutrition, lethargy and depression.
Believed to safeguard the owner from the misfortunes, this red talisman offers a safety shelter to its wearer from all kinds of skin diseases when it's worn as a neck piece. A thought from the ancestral about the coral amulet still exists that a planet close to the earth, Mars, is well composed of the red gems of coral.
Now, let's delve into a spectacular collection of Coral Jewels by Jewelexi, a renowned and constantly nurturing jewelry store.
Coral Ring
Rings are worn suiting the style of the outfit you are donning. Check out this ravishing piece of ring styled in unique pattern. At its center, an oval shaped and red in hue talisman named, coral is engraved which is enhancing its ornate gape. All around this gemstone some shimmering white topaz gems are too embossed.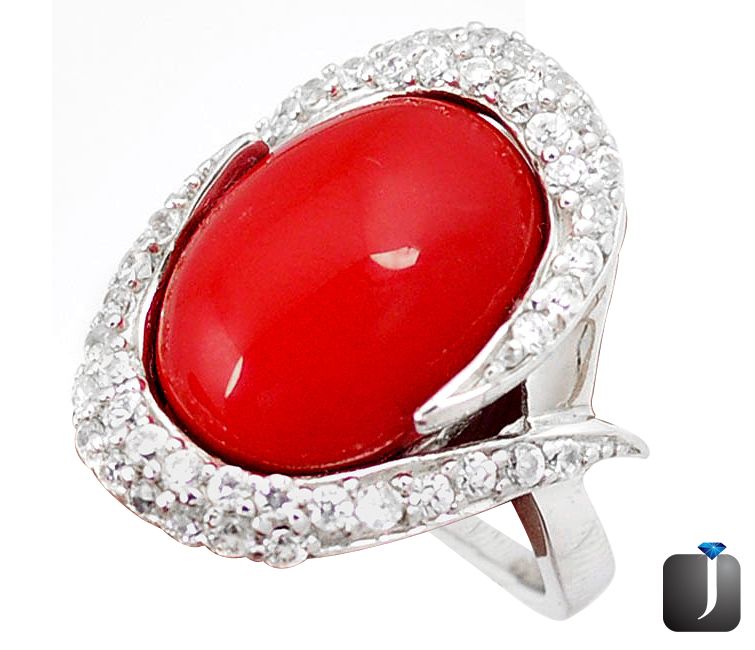 Coral Earrings
Earrings totally change your elegant look be it small in size or dangle one. The former one is worn with any tied hairstyle like braid bun as the beguiling gawk of the jewel gets pushed out. With the later one, you may try an open hairstyle or you may leave you hair untied till will look amazing.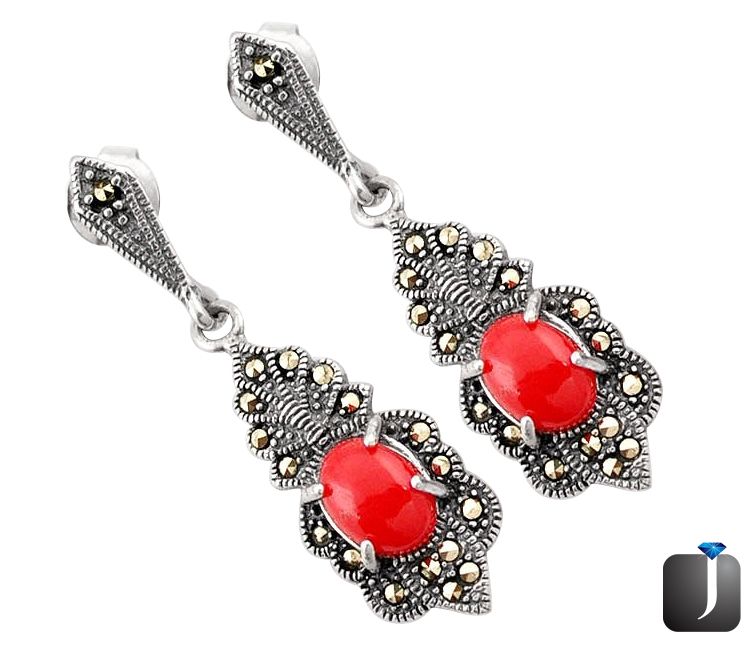 Spot out this pair of gorgeous dangle earrings adorned with a reddish touch. This red hue is due to lovely pieces of red Coral gemstone that are appealing engraved on these pieces.
Coral Pendant
Today an odd fashion style is running all over the ambiance according to which the pendants are solely worn with no requirement of earrings and all. This may sound strange but it looks fascinating. A plush piece of pendant doesn't leave any space empty or vacant which may need any other jewel to get filled.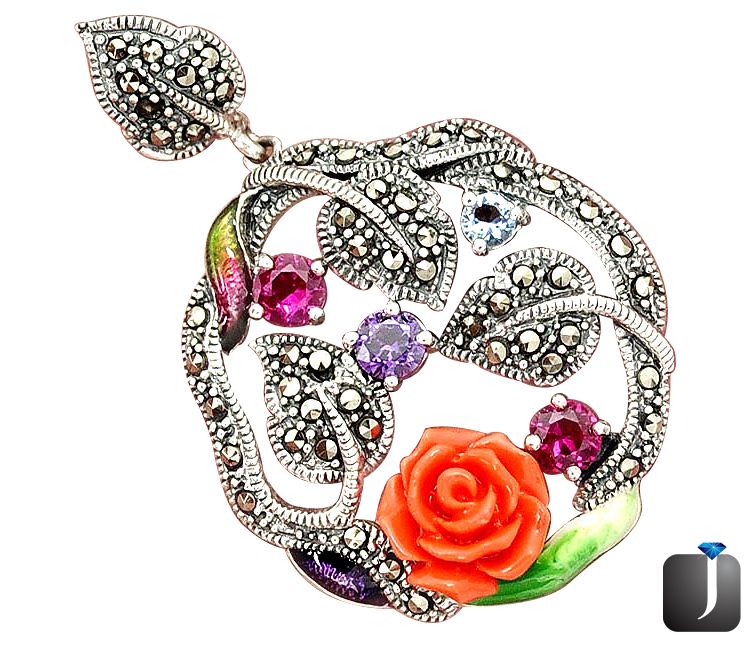 Spot out this mesmerizing piece of pendant styled in the garden style, full of colorful flowers and shrubs. The red rose is made of coral which is looking awesome in between other gaudy blossoms.
Coral Pendant and Earrings Set
Sometimes the beauties find it hard to get a match pack of jewels. So, they usually pick a set of harmonizing pair of earrings with a pendant. This way they may cut down their selection time.
Check out this set of coral holding an alluring pair of coral studs and a similar looking piece of pendant.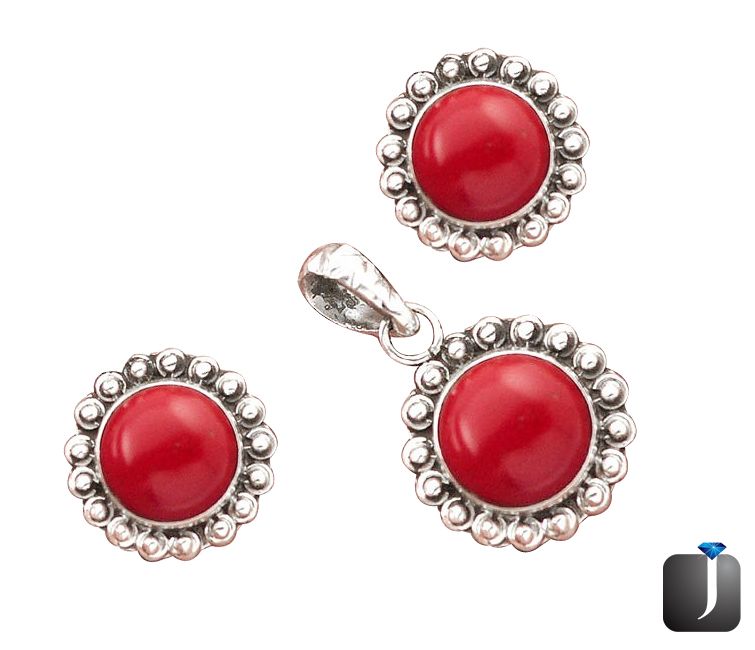 Coral Bracelet
The thrilling wrist piece makes the look of a beauty complete. It should go perfectly with the stuff you are wearing, the clothing and accessories.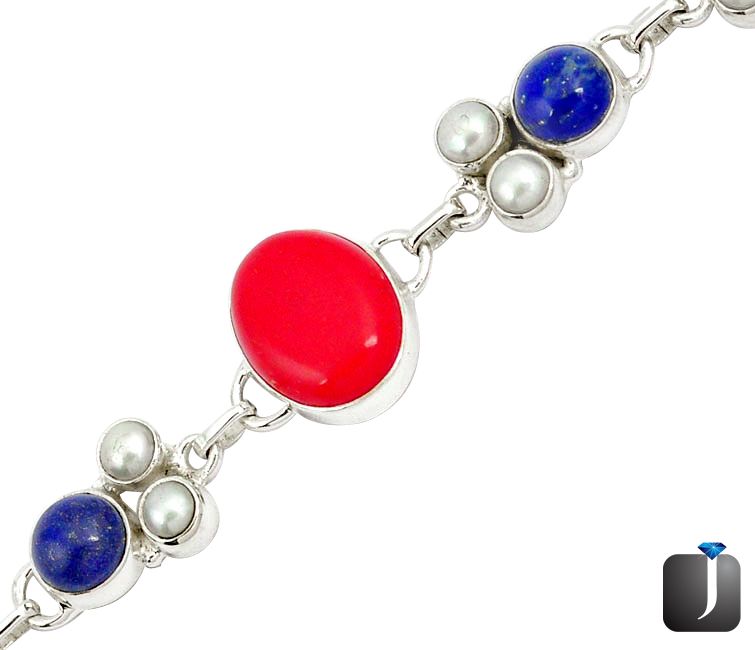 Let's scorch the dazzling elegance of this palatial piece of bracelet engraved with ruby gems. The other colorful gems are too embossed on it which is enhancing its opulence.