Opal, a top gem piece in gemstone gossip, falls in a mineraloid group for its crystal-less mineral makeover. This captivating charm resides in a reserved area of famed boulders.
It might have not worn its sparkle cover but its actual motive for taking part in the special occasions is its gaudy tints. Its colorful spectrum arouses in lasting blend palette. That's why; the jewelry designers put their selective finger on it.

The Couture Show 2015, Las Vegas
Let's watch out, the newest designs of Opal Jewelry by various renowned jewelry crafters of the show:
Nikfarjam
Renowned jewelry designer of Lisa Nik exclaimed that the color palette of Opal, when combined with the other materials exhibits more picking. The Couture Show, held in Las Vegas this year, showcased the plush collections by Nikfarjam among which an asymmetric earring was embellished fabulously with the tempting colorful gems together with Australian white opals.
In favor of these opulent crystals, she spelled off her feelings that she loved the pinkish hues picked by rose gold and the white gold that made them look more pallid and spectacular. The opulent gape of these opal earrings was also cherished by her while she hand them on with her signature green crystal neckpiece.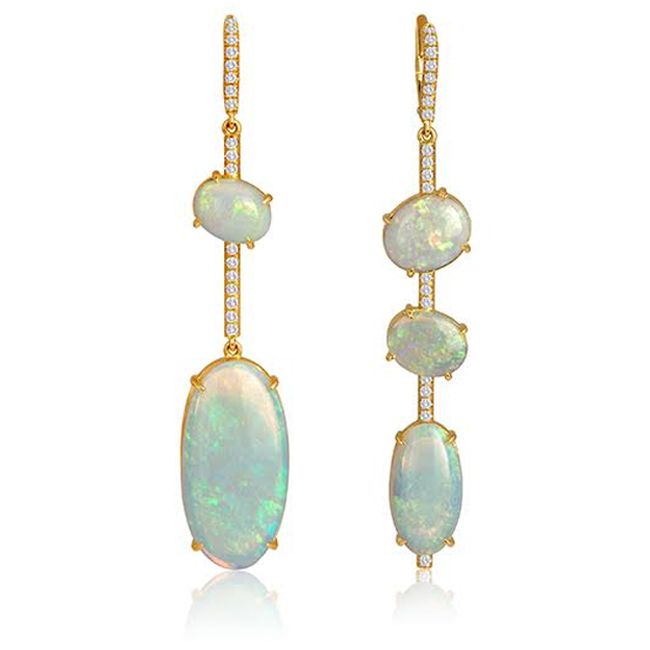 Australian White Opal Earring by Nikfarjam
Erica Courtney
Nearly greatest varieties of Opal are sourced from Australia, but the other mostly whispered includes Africa, South America and the legendary U.S Jewelry designer Erica Courtney. She, in the world of jewel, eminent for her tinted gemstone jewelry contours and gems (including opal) site visits.
Opal exists in her beloved crystal's list. Equally, she is fascinated by its mystery, history, and its adornment in the contemporary designs of jewels. She also added that that the magical powers of Opal might have enforced the kings and queens to add it to their treasury. In her opinion, Opal holds a romantic, mesmerizing and nature's beautiful gawk.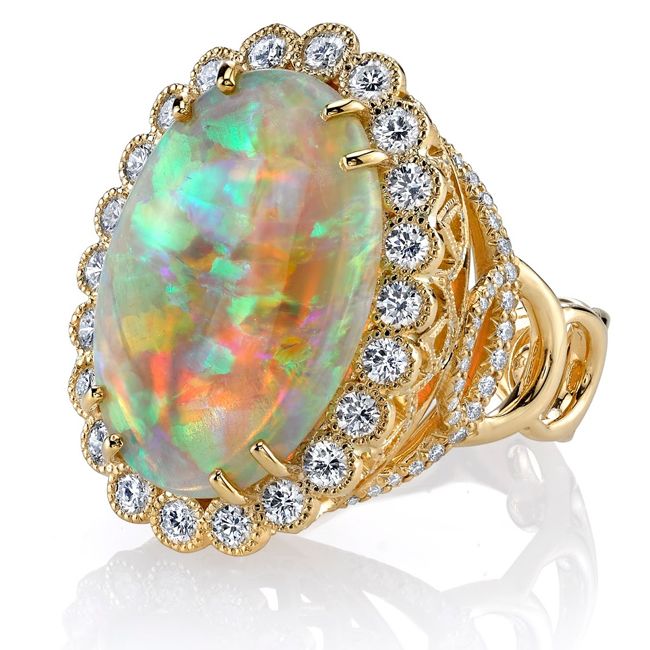 Erica Courtney Australian Opal Ring
Katherine Jetter
The Couture Show bestowed a strong renaissance evidenced in the Opal jewelry. Katherine Jetter, a contemporary jewelry designer in Santa Fe, New Mexico, whose primary work is with Australian Opal, was not shocked with this.
She displayed an ornate piece of 20k yellow gold ring splendidly decorated with a 26.41 carat Boulder Opal gem piece exhibiting its marquise shape. Some orange and red sapphire crystals were enhancing its dazzling gawk.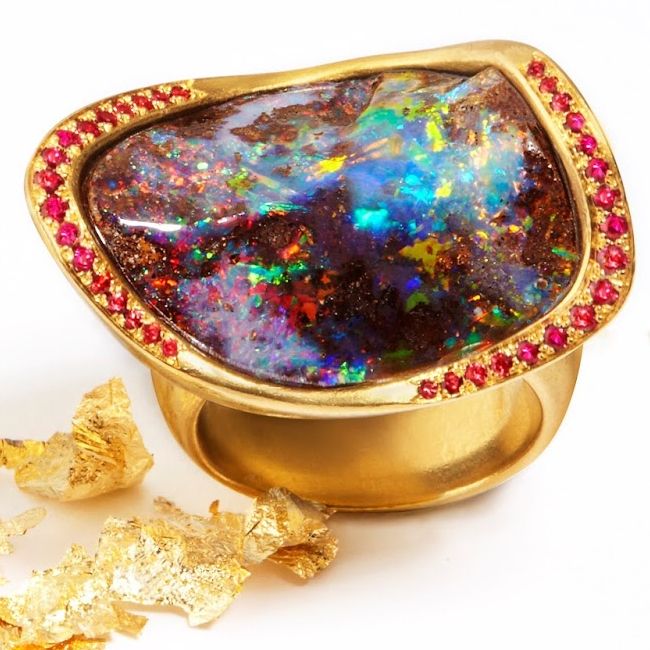 Katherine Jetter Marquise Opal Ring
Gurhan Orhan
The world famous 24k gold jewelry crafter, Gurhan Orhan, is an admirer and a collector of gems that he engraves in his gold jewels. Among his unforgettable collections, revealed at the Couture Show, a bib styled necklace was in the hot tittle-tattle, festooned with oval shaped, 62 in nos., cabochon opals of varied sizes.
Voicing his views, he said that with the glittering luminescence, Opal glows in soft gleam that limelight its mysterious quality that is astonishingly stimulating. In fact, we go beyond this real world in the colorful planet inside Opal while checking it under magnification. He finds it as his favorite charm to work with.
Gurhan also uttered that his Opal specialized jewels make him happy somewhat extra. He carries them as magical pieces and believes that its owners might be feeling the alike.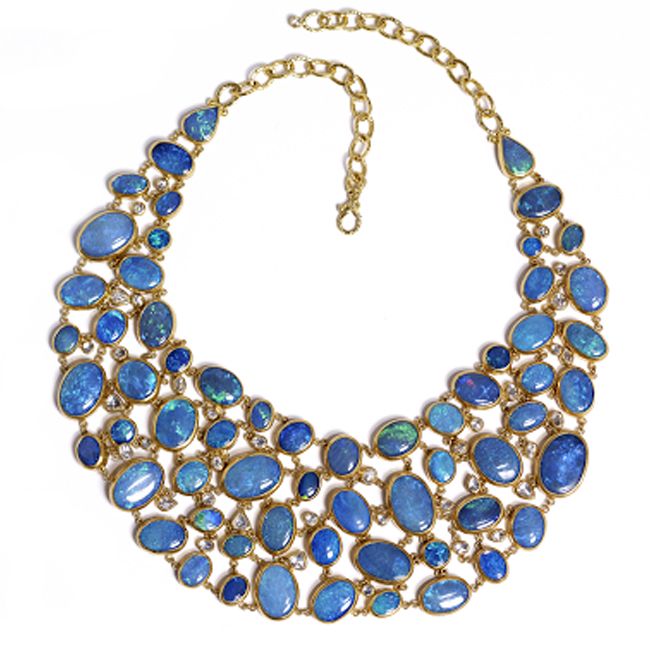 Guhar Opal Necklace
Lydia Courteille
Lydia Courteille exhibited its hottest collection in which the core of lure was its seahorse neck piece of 18k gold adorned with various blue Australian Opals of about 20 grams with other precious gems.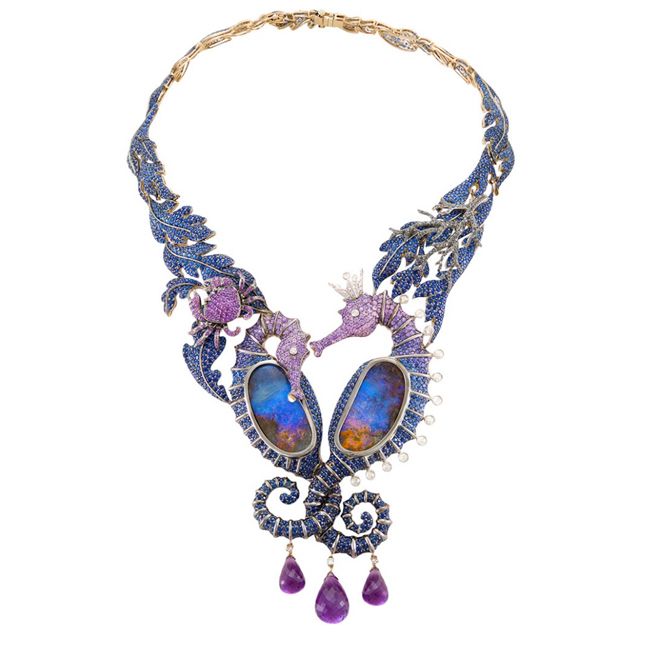 Lydia Seahorse Opal Necklace in Gold
Sweta Jain
Sweta Jain, head of Goshwara presented 12 strand tassel earrings hanging Opal beads in 18k gold with Onyx and Diamonds. In her words, Opal is a trending charm that is holding its fame from the past that has become prominent to be embossed in statement jewelry also.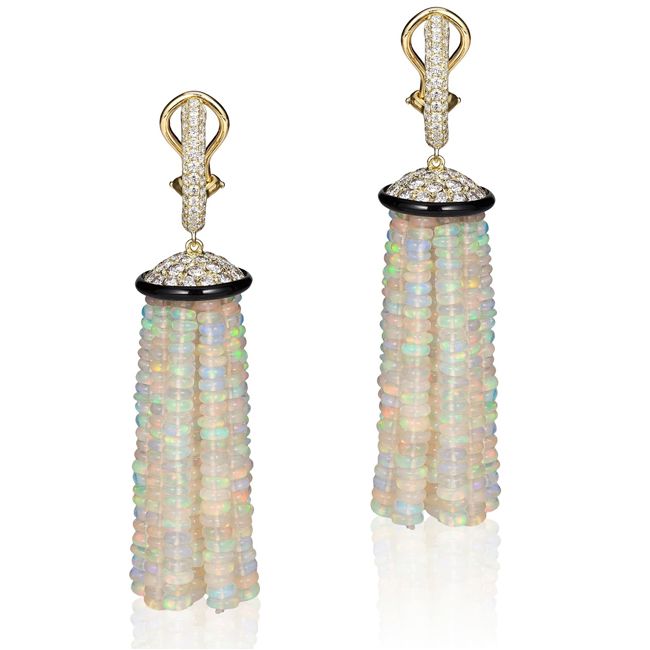 Goshwara 12 Strands Tassel Opal Earrings
Apart from its astounding gaze, Opal spellbound people by its amazing mystical features. Traditionally, this charm is alleged to possess healing properties with its fabulous hues mingle that is thought to echo the altering moods and emotions of the being.