Prom night! Next week? Fabulous dress status 'OK', pumps also 'Ok', Salon too 'OK' but what about jewelry! Excitement is natural but you won't like leaving your jewelry elects for the last minute. Agree?
No worries, still there is time for that clock struck! Let's pick the damn hot jewelry toning your prom attire. You never know, perhaps this night will become a romantic date or will give a chance to reveal your glam. You may also take a cue about the jewelry in trend from the Hollywood beauties.
Neck Pieces
Bare necks are in fashion today, but still some put this look in the "Something is missing" category. Let's check out with which necklaces celebs are posing.
Kandall Jenner

She, a famed TV actor and American Model, caught in her astounding Cinderella swag. Diamond embellished bib neck piece from Chopard snap her in limelight.
Scarlett Johansson

Revealing the beauty of her dazzling green collar, Scarlett wore Swarovski necklace.
Sienna Miller

On the run to please the crowd, Miller showed her diamond and white gold neck tag from Bulgari.
Poppy Delevingne

She made the heads turn as worn her Chopard brand hanging diamond necklace.
Cara Delevingne

The center of attraction at the red carpet, Poppy's younger sister, wore de Grisogono's emerald, ruby and diamond festooned necklace.
Earrings
Ear candies are walking hand-in-hand with today's craze. Now, let's mark out which dangles the celebs are hanging.
Rachel Weisz

Moon touching Actress, Rachel proudly paired her blue outfit with Chaumet's sapphire earrings.
Sophie Marceau

Jury member of Cannes and French Actress, Sophie picked Chopard's alluring emerald hoop ear pieces which enhanced her elegant gaze.

Cate Balenchett

A-list movie player, Cate in her cherry mood wore Van Cleef & Arpels's diamond studs stunned her red carper appearance.
Natalie Portman

She, a Hollywood gorgeous, choose de Grisogono's spiral styled diamond earrings.
Léa Seydoux

French movie performer, Lea proved that we may exhibit our elegance without opting for off-fashion plunging neck piece. She wore her sapphire chandeliers engraving diamonds too from Chopard collection.
Rings
The finger bands also add charm to the grace of the ladies. So, now we'll scratch out, which rings are in fashion?

Andie MacDowell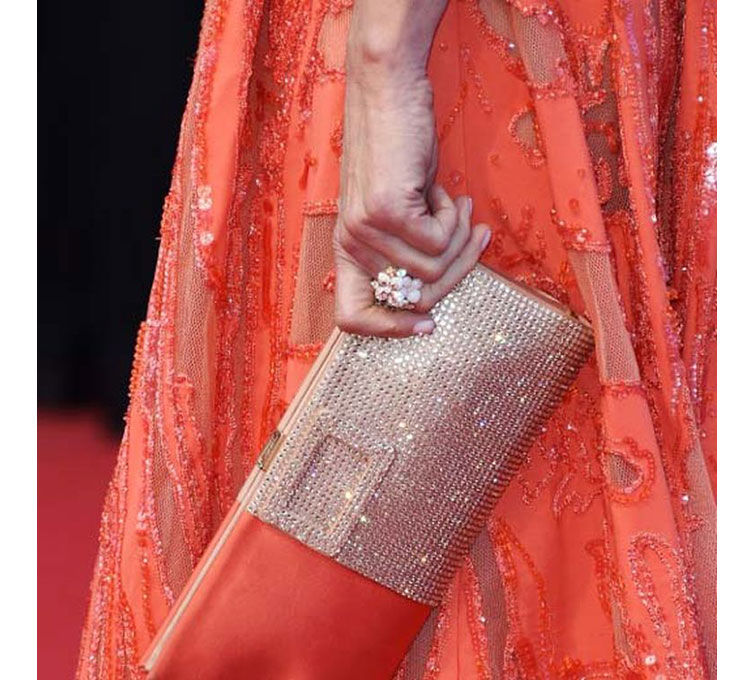 The Hortensia ring from Chaumet, embossed with engrossing gems and diamonds was addressed in middle finger of pretty Andie.
Petra Nemcova

Being an endorser of Chopard, Petra picked a gaudy gemstone ring from Temptation Collection of Chopard.
Karlie Kloss

She topped the red carpet appearance by her precious ring by de Grisogono.
Frédérique Bel

Bel looked amazing in her toning emerald, sapphire and diamond engraved ring.
Ziyi Zhang

To match her fascinating dress, Ziyi wore diamond ring by Chopard.
Bracelet
The wrist pieces are too the eminent member of the celebs wardrobes. Moreover, the bracelets are their most favorite jewel kind.

Alice Taglioni

While completing her unbroken walk on red mat, Alice was marked wearing a bewitching bracelet by Montblanc.
Uma Thurman

With the winkling gaze, Uma exhibited her Chopard's diamond bracelet.
Isbeli Fortana

Famous Bulgari face, Isbeli showed her Serpenti wrist piece from obviously, Bulgari.
Cate Blanchett

With her jaw dropping black gown, Cate paired Van and Cleef & Arpels's gold cuff.
Karlie Kloss

The famed face of L'Oreal and a model, Karlie witnessed the red mat wearing Allegra bangle bracelet from de Grisogono.