E-tailers from all across the globe lure the jewelry lovers to buy jewelry conveniently. The selection available is abundant that too help the purchasers to pick out their desired design without moving around. The trend of selling and buying online jewels is increasing day by day in the US and often contemplates as vending of fine jewelry. Further the jewelry is made up of world's most covetable precious nuggets.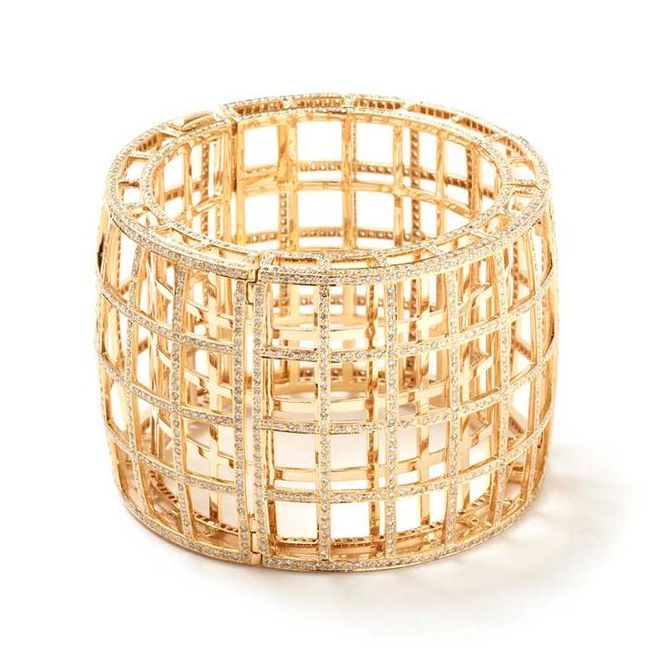 Maiyet Gold Diamond Cage Bracelet
Online jewelry sales rising across the globe lacks the opulence, like success stepping the ladder in the United States. Modern generation feels more confident and comfortable while making purchases online. In today's world, everything has become tech savvy, including jewelry business. So jewelry lovers can now make their purchase online where they find abundance of choices available at a single stop.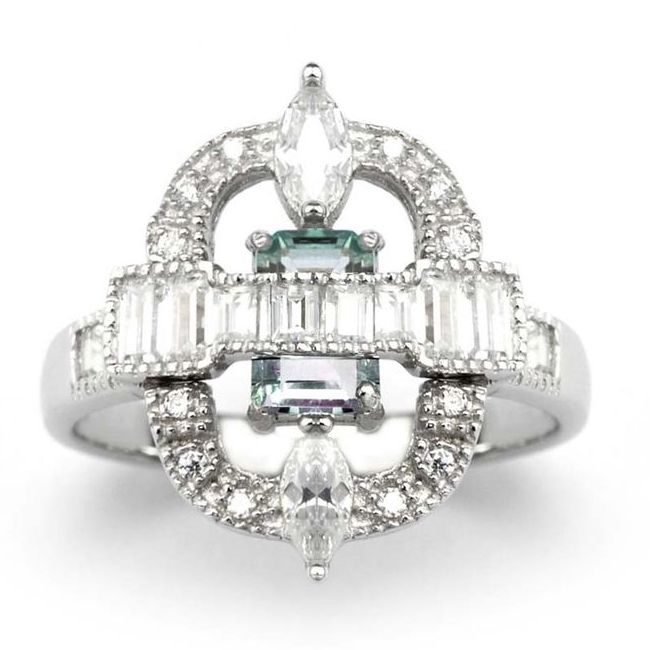 Y Jewelry Green Ring
The specialized and dedicated e-trailers had connected themselves via internet by creating their focused online stores for their clients. The lage and renowned jewellers as well as Juxury houses too jump in this line to make their creations available easily to their valued customers. Online retailing too enhance their brand value along with the prestige of their skilled, talented designers.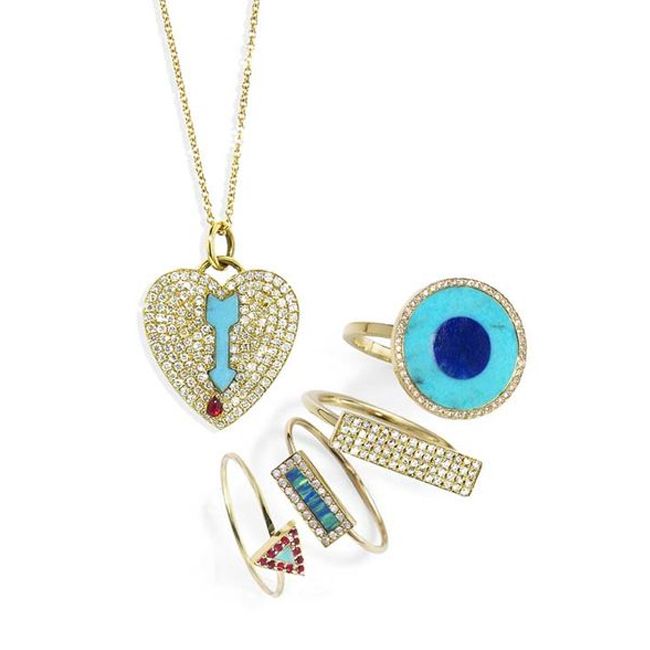 Jennifer Meyer Turquoise Ruby Diamond And Opal Jewelry
Today fine jewelry lovers, buyers browse thousands of online stores in minutes and that increase their interest more to search for what they are ardently looking. Fine jewelry e-tailors demonstrates their time tested expertise along with the brand value. The long established stores that are popular in their locality now makes their presence online by displaying their trendy jewelry for fashionable generation.
Jewelry does not bind people in cast, creed or region and switching over to the online bracket by the jewelers of all across the globe makes it true. The victory buzz of jewels and gems can be clearly hark by all.
Jade JAgger Disco Ball Ring
US based jewelers wins the race among all other jewellers of the world. US e-stores are accompanied by high fashion retailers of UK, Net-a-Porter and Matches. Both these nations have got the strong grip on the online market and lure the jewel lovers to look for their ideal gem from their shops.
Ylang 23 in Dallas of Texas is a home to avant-garde stylish jewelry, it was launched by Joanne and Charles Teichman in 1985. This luxury house is well known for its exceptional taste in jewelry designs in addition to their color combinations choice.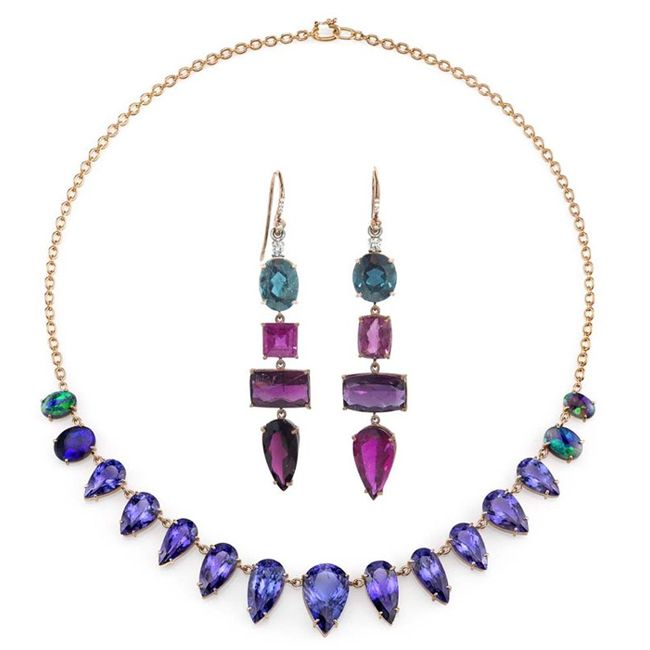 Y Lang Tanzanite Pink Tourmaline Necklace and Earrings
Megan Thorne, a young fine jewelry designer who owns his jewelry house now along with ILA&I was supported by Ylang 23 for their creative and mesmerizing designs.
Ylang 23 is too associated with some lionized jewellers of US, like Cathy Waterman (lead designer of Ylang 23, Irene Neuwirth (A native of Southern California, who founded her company in 2003) and Todd Reed (award-winning fine jewelry designer of America).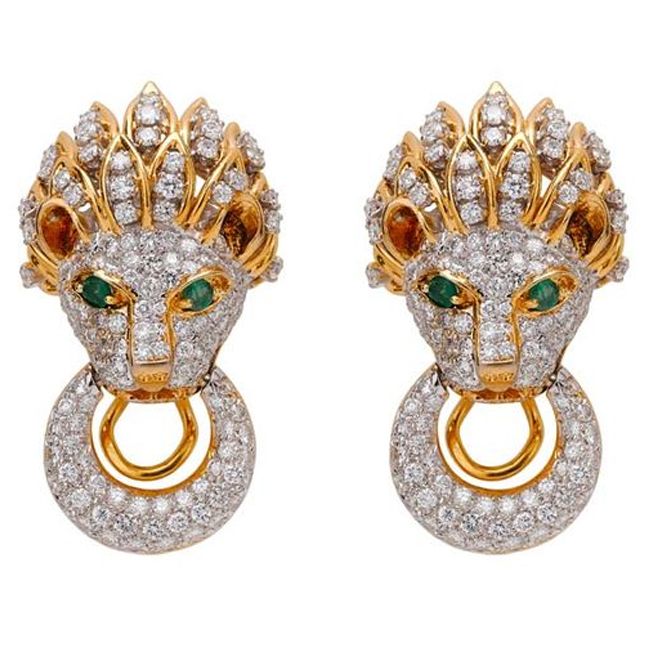 Gold Lion Earrings
Ylang23 stretched his hands out to capture the online market by redesigning its website to proffer most user friendly experience to its customers that starts from scrolling the whole site to the last phase of the selection and then payment. Ylang23 wish to provide the same experience to its online clients like the client is visting a real store. Though the website is virtual but the experience is as of real. The redesigned website sparkles with an additional feature or a module " the ring bar" that allows its valued customers to select from a wide range of jewelry. The range varies from bridal collection to custom made as well as designer specific.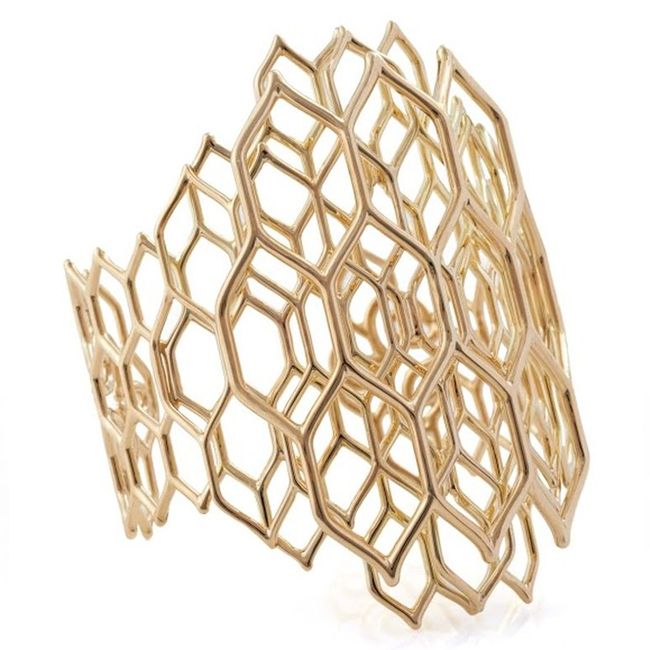 Gold Cuff
Twist, an another jewelry jewelry house, holding an experience of more than 30 years too launches its website in 2004. Twist is situated in Oregon, Portland and is owned by Paul Schneider and Lauren Eulau.
Paul and Lauren, they both holds the artistic know how select the jewelry from over 100 artists from around the globe to make their online collection worthy. They work with renowned aritists or jewelry designers like Cathy Waterman, Judy Geib as well as Sevan Bicakci. The twist is furthermore known to support rising designers by offering them a platform to showcase their collection. These idiosyncratic rising stars are Jo Hayes Ward, Margery Hirschey and Polly Wales.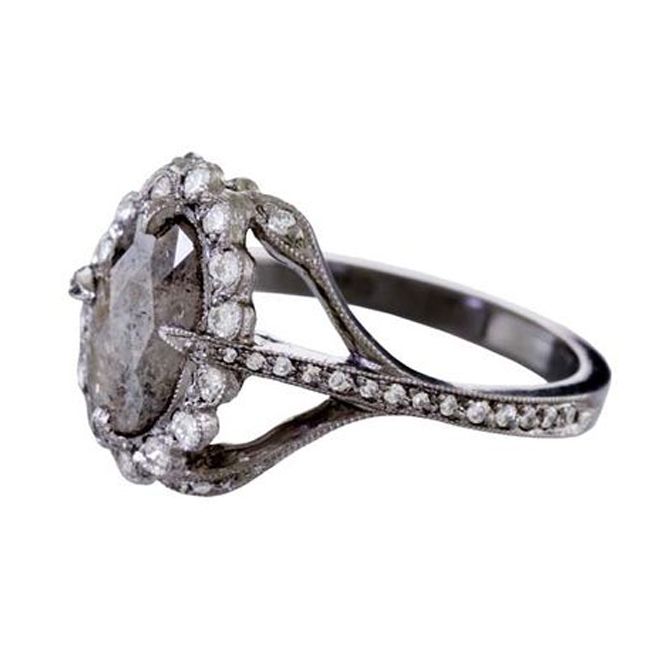 Cathy Waterman Ring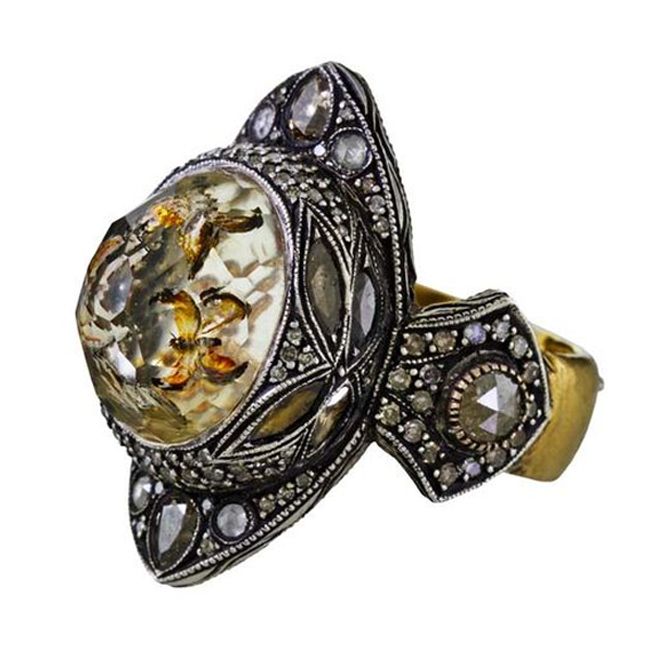 Sevan Bicakci Theodora Butterfly Ring
Dalia Oberlander, a founder of Latest Revival (a luxury house) is too in a race with an exclusive collection of contemporary designers. Fernando Jorge (a fine jewellery designer from Brazil), Delfina Delettrez ( famous for her hyper-modern jewelry designs) Bao Bao Wan ( jwelry designer from China) all together showcase their collection on the website that holds a section that includes the collection of upscale vintage and rich jewels with a twist of contemporary graphics.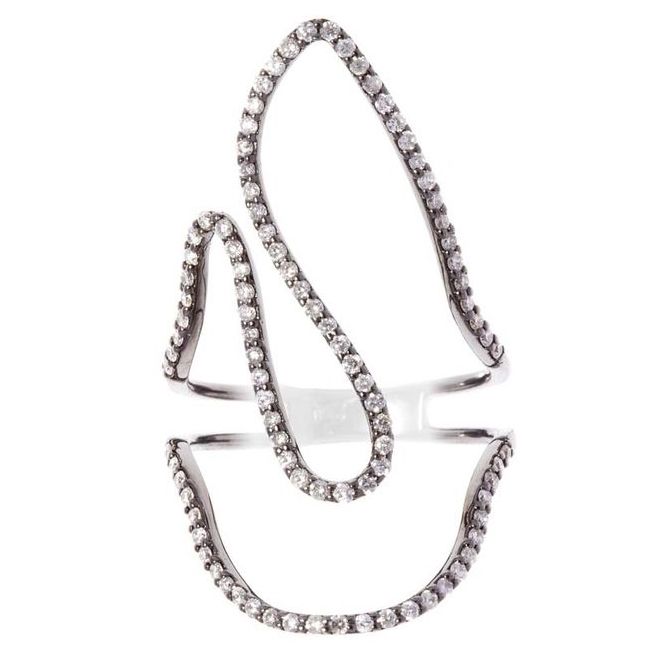 Diane Kordas Open Loop Ring
Stone & Strand, a fine jewelry online store founded by Nadine McCarthy Kahane and Brooke Magnaghi presents their exceptional jewelry with personalized service. Stone & Strand contemplates as a valued website for its jewelry library, aftercare services and tutelage in a form of jewelry features. This e-tailor offers the collection of Jacquie Aiche, Michelle Fantaci along with Stephen Webster and many others famous designers.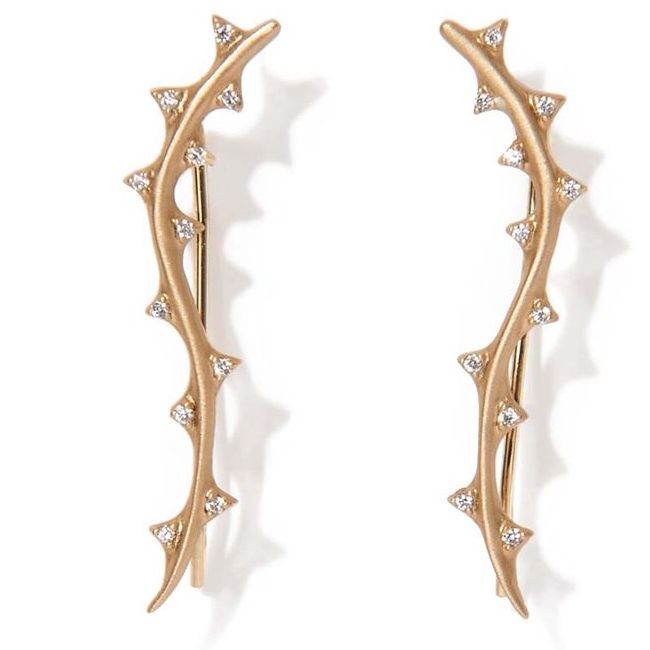 Michelle Fantaci Thorn Ear Cuffs
Kate Davidson Hudson and Stefania Allen, former luxury magazine editors presents their learning through their website 'The Editorialist' by proffering the world's finest accessories and jewelry.
An another high fashion jewelry website, Moda Operandi is renowned for showcasing exclusive and trendy jewel pieces. But this fashion e-tailor creates its image by offering the designs of the designers for a limited time period, so as to create interest among the jewelry lovers. This works and site get hits. Website too uses the designs of the well known designers like Nam Cho, Coléoptère s well as Larkspur & Hawk.
Apps too helps the jewelry designers to win the game as these apps are proffering exclusive pieces from renowned jewelry designers like Anna Sheffield, Melissa Joy Manning moreover House of Waris.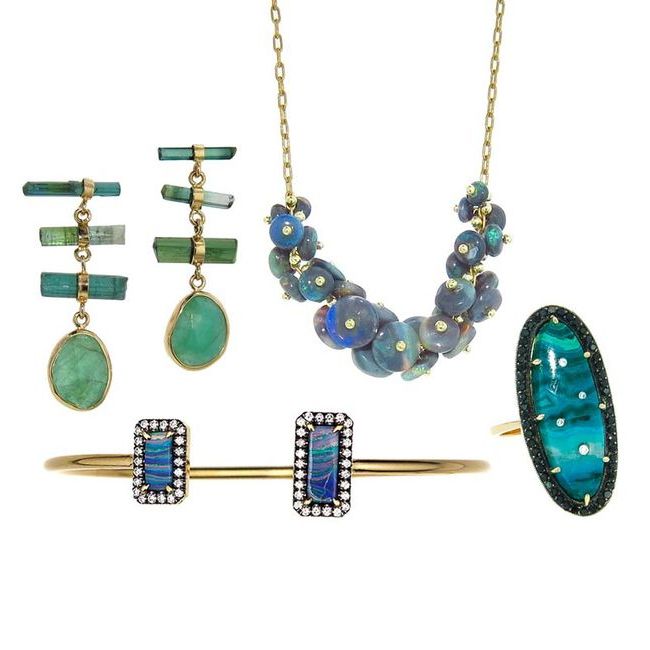 Melissa Joy Manning Collection