Oscar is ruled by the virtue of diamonds. Julianne Moore is chosen best actress on Oscar night too wore the Chopard diamond jewelry, so diamonds are assessed to bring luck to all who wears it. The designs of Chopard too add serendipity in the life of its wearer.
Red carpet celeb Moore lifts her 2015 academy award for her leading role in Still Alice. She had a white gold embedded 14 carat diamond earrings along with 10 carat square cut diamond band.

Julianne Moore's Chopard Diamond Earrings at Oscars
To boot, she wore 4 carats smaller marquise ring of the diamond during her award night. Chopard jewelry proves lucky with her as she too won the BAFTA award. She chooses to assume the collection of Chopard, as pictured on the red rug at the golden globes in Chopard diamonds.

Julianne Moore's Chopard Diamond Earrings at Bafta
Chopard's jewels were astonishing as last year leading actress; Cate Blanchett too lifted her Oscar in her stunning dress with the accessories of Chopard Opal earrings.

Cate Blanchett's Chopard Opal Earrings at Bafta
Cate Blanchett furthermore shares the victorious moments by choosing Chopard jewels for BAFTAs, SAGs as well as for the golden globes.

Cate Blanchett's Chopard Earrings at Golden Globes
Last year, Blanchett wore Chopard designed pendant crafted like a large bird in a nest of the diamond.

Cate Blanchett's Chopard Bird Necklace at Oscars
Jennifer Lawrence in the year 2013 likewise lifted her Oscar for her leading character wearing the jewels of the same company (Chopard jewels). So, that makes clear that Chopard jewels were the leading luck for three leading ladies of the Hollywood.

Jennifer Lawrence's Chopard Diamond Earrings at Oscars
French actress and singer-songwriter, Marion Cotillard too wore Chopard diamonds in the running race of the best actress.

Marion Cotillard's Chopard Diamond Earrings at Oscars
Film director as well as Mexican-Kenyan actress Lupita Nyong'o too wore the Chopard diamond earrings along with the set of three diamond rings. She wore a beautiful attention attractor pearl-emblazon Calvin Klein jaw-dropping dress. Females not only win the race by wearing Chopard jewels means' too counts lucky.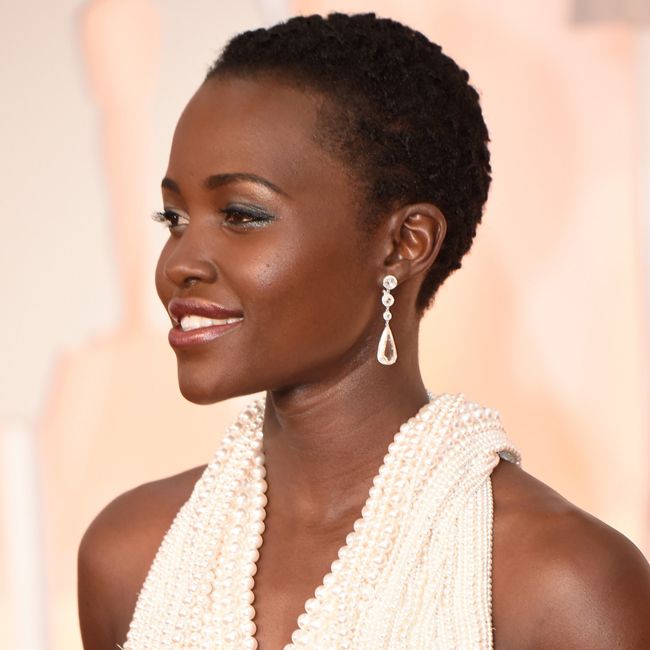 Lupita Nyong'o's Chopard Diamond Earrings at Oscars
Eddie Redmayne, a British actor likewise lifted his Oscar for best leading actor. Eddie too was seen in L.U.C. XPS Platinum watch designed by Chopard's. It might be a coincidence, but celebs consider Chopard as their lucky charm, who brings them, Oscar.

Eddie Redmayne's Chopard L.U.C. XPS Platinum at Oscars
BAFTA too shows the magic of diamonds on the red carpet. Pearls along with the leading brands too hold the stage of BAFTA. Diamonds are the best friends of the stars as they sparkled on the carpet of 68th BAFTA in the diamond jewels.
Felicity Jones, a British actress to wore Van Cleef & Arpels ruby and diamond earrings.
Felicity Jones's Van Cleef & Arpels Ruby and Diamond Earrings at BAFTA
Julianne Moore wore the jewelry of the Swiss jewels' leader Chopard at the event held at London's Royal Opera House. Moore again chooses to wear a diamond in BAFTAs evening; she wore pear-shaped diamond earrings from Chopard's along with the white gold diamond embedded ring from the high collection of La Strada.
Patricia Arquette, who won the award for best-supporting actress, wore 18ct rose gold earrings embedded with 5.30 carat black and brown diamonds designed by the London jeweler, Annoushka. A multi-talented American actor, fashion designer, film director, producer, as well as screenwriter too, choose Annoushka to create a style statement.

Patricia Arquette's Annoushka Rose Gold Earrings at BAFTA
Amy Adams, a glamorous actress of Hollywood also decides on to wear impressive diamond ring crafted by the leading jewel company, Cartier.
Whatever the colored gem combines in the jewel diamond is always used to lure the celebs of the Hollywood. Rosamund Pike and Felicity Jones, they both, were assessed as a quintessence of red carpet, as they too opted to wear diamonds. Rosamund Pike opted to wear Italian jeweler; Bulgari designed emerald and diamond earrings furthermore a diamond bracelet and that to design by the same company.

Rosamund Pike's Bulgari Emerald Diamond Earrings at BAFTA

Rosamund Pike's Bulgari Diamond Bracelet at BAFTA
Dame Kristin Scott Thomas too wore diamond earrings made by Adle, a Swiss jewelry store.

Kristin Scott's Adle Diamond Earring at BAFTA
Diamonds are the traditional gem that can be set with any other gem to give stunning look. Natalie Dormer chooses to wear black gold ear cuff that are set with Tahitian pearls and diamonds.
Baftas Yoko's London Natalie Dormer at BAFTA
Chopard from always stays a center of attraction on the red carpet, as the amazing designs of this jewelry house captivate the eyes of the fans and the media.
Bird diamond necklace, then Uma Thurman's 32 carat emerald-cut diamond necklace moreover Léa Seydoux's diamond earrings from the Green Carpet Collection of Chopard raises the standard for jewelers as well as designers.

Uma Thurman's Emerald-Cut Diamond Necklace at BAFTA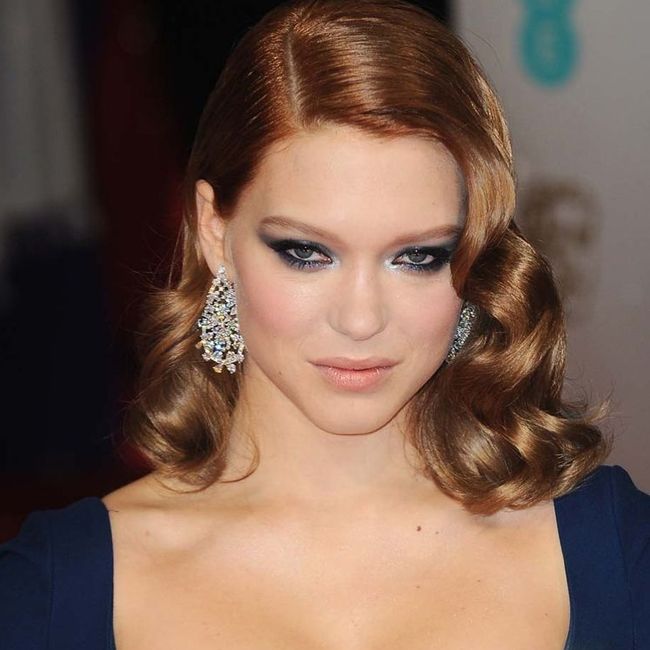 Léa Seydoux's Chopard Diamond Earrings at BAFTA
Love for diamonds will never end, and this can be seen apparently. Helen Mirren collected her lifetime achievement award of the BAFTA Academy in the beautiful designs of Asprey. She wore stunning earrings, rings as well as bracelets designed by Asprey designer and jeweler.

Helen Mirren Asprey Diamond Earrings at BAFTA