Early Life – Learning from Bench Jeweler Father's Teaching
Alexander Calder will remain one of the most prolific sculptors of the 20thCentury. He was not just any sculptor but one who thought ahead of his times, one who dared to try new things and one who left a rich legacy behind him.
Calder was born in 1898 in Lawton Pennsylvania to sculptor father Alexander Stirling Calder and Nanette Calder, a professional portrait artist. Alexander Calder was the fourth generation sculptor in his family. His father was a well-known sculptor who made several public installations, primarily around Philadelphia. His grandfather, Alexander Milne Calder, is famously known for the colossal statue of William Penn that still stands tall on top of the Philadelphia City Hall.
Known as Sandy among family and friends, Calder's artistic journey began very early in life. When he was just three or four years old, his tiny fingers gave shape to a clay elephant. It was around this time that Calder posed nude for this father's sculpture "The Man Club". In his childhood, he not only sculpted small figures but also took interest in jewelry making. As an eight year old, Calder would be seen making tiny jewelry for his sister's dolls using beads and copper wire.
Throughout his growing years, his parents moved between Philadelphia, New York and San Francisco. Even when staying in a new neighborhood and attending new schools every few years, Calder's parents made sure they had a windowed cellar reserved as his studio. It was in these home studios that Calder crafted small animal figures, made three-dimensional figures and even gave kinetic movement to a few of them.
Education and Early Career – A Move from Engineering to Sculpting
It was Calder's parents' wish that he pursue a professional course after his high school, instead of being an artist. That was one of the primary reasons why he enrolled in the Stevens Institute of Technology in Hoboken, New Jersey in 1915 for a course in mechanical engineering. Though initially he didn't have any idea what mechanical engineering was all about, his interest in the kinetic and his proficiency in mathematics made him a good student.
After passing out with an engineering degree in 1919, Calderdid several odd jobs – sometimes he was a hydraulic engineer, sometimes a draughtsman, sometime an engineer on a ship. It was while working on the ship and experiencing a particularly pristine scenery in Guatemala of the sun rising and the full moon setting that inspired him to become a full-time artist. Soon he made a decision to move back to New York and pursue a career as an artist.
The first thing Calder did after reaching New York was getting enrolled at the Art Students League. While still a student, he started working for the National Police Gazette in 1925. It was during this time that, during a sketching assignment on the Ringling Brothers and Barnum and Bailey Circus, he became fascinated with circus. Eventually circus and its action became one of the common themes of his later works.
After his stint in New York, Calder moved to Paris and got enrolled in theAcadémie de la Grande Chaumière in 1926. In Paris, he simultaneously set up a studio. It was also during his stay in Paris that he met Louisa James, who he would marry later and have two children with. The two got married in 1931 and moved back to the United States in 1933 to settle in Connecticut.
Awards and Recognition for Alexander Calder's Work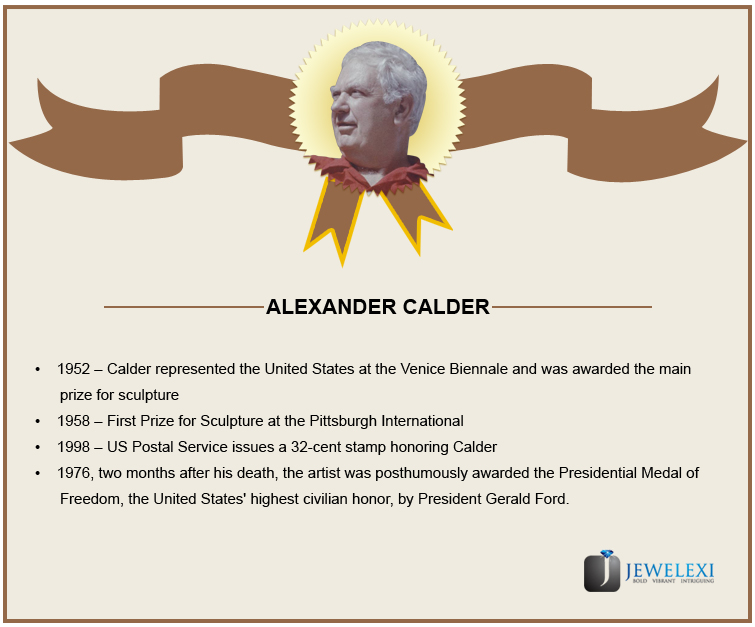 Calder's Sculpting Aesthetics
Calder's contributing to sculpting as an art are numerous. But one of the things that he was very popular for was his miniature circus creations. He was very much inspired by the motion and action of real circus and hence would make miniature replications of them using wire, cloth, rubber, string, and other everyday objects. The circus miniatures were known as "Cirque Calder"and are considered very popular among avant-garde Parisians.
Calder is also credited for inventing wire sculpture or "drawing in space". In wire sculpture, jewelry or sculpture can be created using metal wires.
As his work as a sculptor became popular, Calder found himself drawn towards the abstract art. His experiments with abstract art further led him tointroducing "motion"sculpting with the use of cranks and motors. Marcel Duchamp used the term "mobiles" to describe Calder's motion-induced sculpture, a term that became associated with many of his later works. At about the same time, Calder also starting experimenting with self-supporting, abstract sculpture which were called "stabiles" by Jean Arp – a kind of art work that was distinctly different from mobiles.
By the 1950s, Calder started concentrating in producing monumental sculptures such as the ".125" for JFK Airport in 1957, "Spirale" for UNESCO in Paris 1958 and "Trois disques", commissioned for Expo 67 in Montreal, Canada. One of the largest sculptures created by Calder was the 25.7 meters high "El Sol Rojo"which he created for the 1968 Summer Olympics "Cultural Olympiad" events in Mexico City.
In his lifetime, Calder alsocreated over 2000 jewelry items, mostly made of brass and steel, ceramic, wood and glass.
After living an exemplary life, Calder died on November 11, 1976.
Calder's works can be still seen all around the world. Calder's largest body of work can be seen at the Whitney Museum of American Art in New York, while his other works can be found at the Solomon R. Guggenheim Museum, New York; National Gallery of Art, Washington DC; the Museo Nacional Centro de Arte Reina Sofía, Madrid and the Centre Georges Pompidou, Paris.