Wedding Jewelry, surprisingly seems to be at least priority when a girl heading towards her most important day. You must have got your wedding dress, but what about your accessories?
Make sure that you'll select perfect wedding jewelry for your wedding day, as it will be the most special day of your life. Mostly ladies gets excited for their wedding dress, but jewelry and accessories, both plays a major role in enhancing elegance of your look.
When you shop for your wedding jewelry, it is very easy to get carried away with your budget, as you want everything to be perfect from ceremony to gown to the wedding jewelry. But the fact is that everyone has to be little restraint.
Wearing the most beautiful dress and stunning jewelry, you will sparkle on your wedding day, with your tremendous selection of jewelry. During the process of selecting perfect jewelry, brides even go out and rent jewelry. At times, their selected jewelry does not go with their dress and sometimes it just looks cheesy. There is a saying that women life begins with her wedding day, and I am sure no woman would like to ravage her most special day, by wearing tacky jewelry.
Note that the first rule for wedding accessories – Do not overexert it! Most of the women think that it's very tempting to load up jewelry items, but the fact is that those overexerted metals should be perfect with your beauty, gown, accessories and other things. Here are few definite tips that will make choosing your wedding jewelry easy:
Match your jewelry with your wedding dress
Initially, you have to start with some research on different types of jewelry and accessories that will be fitted with the style and design of your wedding dress. You can also consider the shoes that you are going to wear on your wedding day. You can explore these things in wedding magazines, wedding blogs or some websites for suggestions and pictures.



Here are a few suggestions which you can consider while selecting your wedding jewelry:
If your wedding dress is white in color - Gold and rose gold baubles may spar with your bright colored dress. Therefore, bright colored dresses would perfectly match with silver, platinum or pearl jewelry.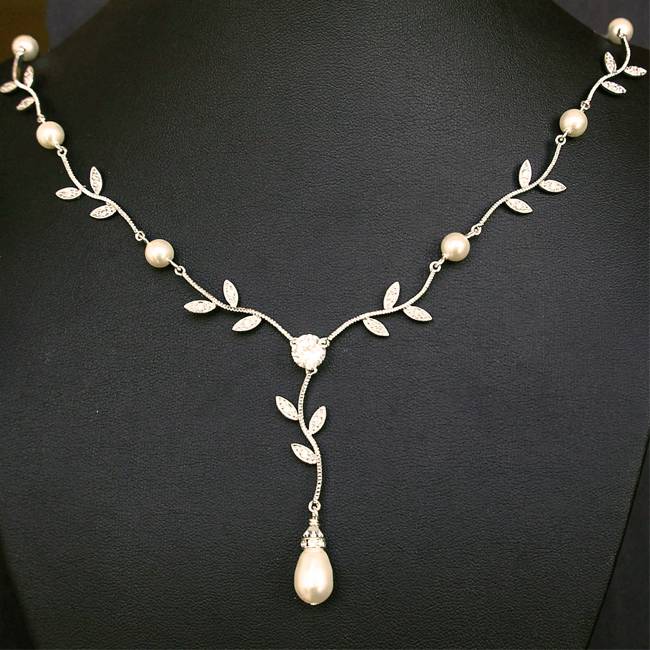 If your wedding dress comprises off-white color - Gold, silver and rose gold embellishments would go with your off-white dress. Pearl jewelry is also a good option with barely off-white dresses.

If your wedding dress have is peachy - This stunning color is now in trend for gorgeous wedding dress. We suggest beautifying yourself with silver, platinum, rose gold and pearl jewelry.

If your wedding dress have a glimpse of ivory shade - This color resembles candle light hue in its façade. It appears soft, light shade of white color and some trappings of yellow tinge. Gold jewelry works well with this creamy touch of the dress.
Do not forget to pair your neckline with an appropriate adornment
To add magnificence to your wedding dress, a proper adornment should be paired up with bride's neckline. It also highlights the unique feature of bride's beauty and gorgeous dress.
Strapless dresses - If you want to try something different on your wedding day, then skip necklace and make beautiful chandelier earrings, the main attraction of your overall appearance. This style would be a best part with strapless dresses.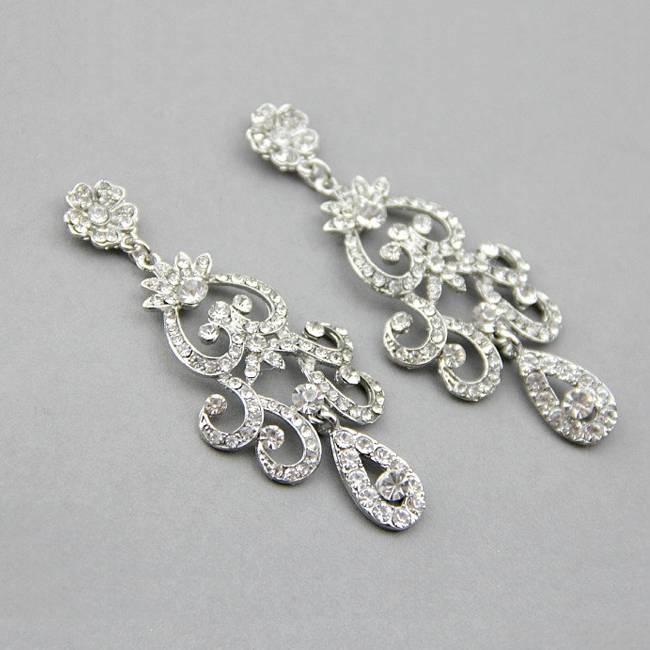 V-neck dresses - The dresses, which comprise V-neck style, must be adorned with some sophisticated décolletage embellishments. An elegant pendant with sleek chain is an ultimate way to accessorize brides, wearing V-neck dresses. Furthermore, classy pearl pendants would be a great choice, pairing with stunning silver earrings.

Halter style dresses - If you have chosen a halter style for your wedding day, then headbands are an ideal way to add panache with your wedding updo. Although, if headbands does not suits with your style, then try some intricate crystal hairpins, which would help you to embellish your look.
Select trinkets according to your bodice detail
If a bride embraces an extra elaborate bodice detail, then she should choose simpler and sophisticated jewelry and accessories. In case, match pearls with beading design of jewelry and diamonds should always match up with crystal designs.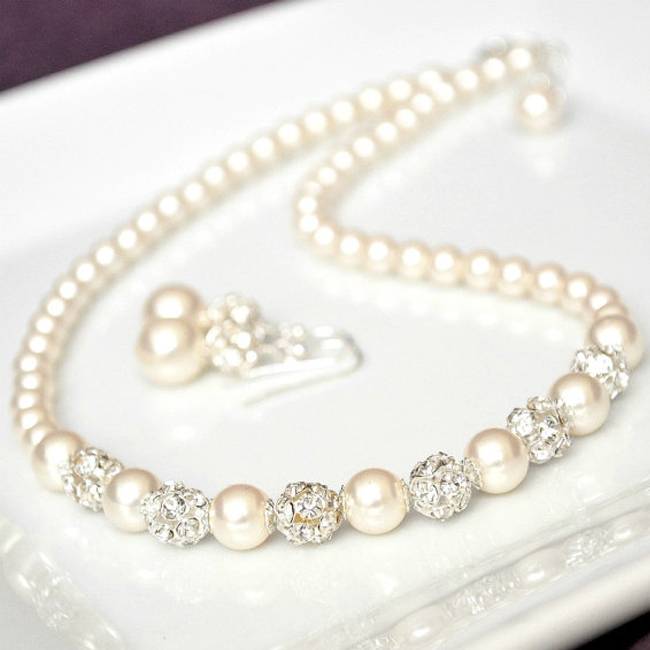 In confusion, always go for conventional jewels
Conventionally designed dangle earrings, with an elegant necklace is a standard jewelry combination, which enhances the beauty of a bride competently. Moreover, a beaded necklace of white pearls with a diamond pendant is a perfect duo with any wedding dress, whether it's strapless or halter.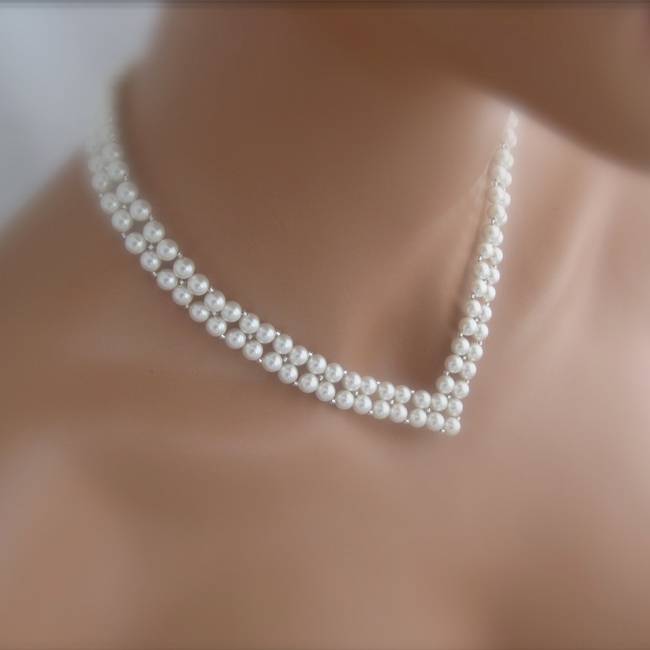 Prior your own style
While selecting your perfect baubles for your special day, then make sure that your selection should resemble you. If your style does not match up with long chandelier earrings, then you should choose stud earrings. Furthermore, if you feel comfortable in all your jewelry, then your most special day is guaranteed to astonish.
The task of selecting your wedding jewelry and accessories should be amusing, while choosing amazing jewelry items that you can wear on other events and occasions. Here are few guidelines; a woman should keep in mind when she is making her choice:
Put your jewelry selection on precedence - Never wait till the last minute to select your wedding jewelry. Initiate this practice at least a month before, so that you'll have enough time to embellish your look with perfect wedding jewelry.

Don't forget to accessorize your bridesmaid - You can keep yours and yours bridesmaid style consistent, while choosing an astonishing combination of jewelry or accessories. In addition, you can choose different color stones to refurbish your appearance on your wedding day.

Don't undermine your look with loads of accessories - Avoid wearing loads of jewelry and accessories, since it can only make you feel uncomfortable and unrefined on your special day. Though, make sure that the selected jewelry is free of sharp points and ends.

Don't forget to complement yourself with your wedding and engagement ring - Make sure that your wedding and engagement ring would be the highlight of your look. These rings should magnetize everyone's attention, as it will also make an amazing souvenir, on your special day.

Don't avoid the wedding theme and hairstyle - Wedding jewelry should always match up with the bride's hairstyle as well as the wedding theme. Hence, you should always consider your hairstyle and the theme of your wedding, while choosing jewelry for your wedding.
Consequently, selecting bridal jewelry one of the finest job, in which you can take suggestions from your friends and family, in the mission to look perfect on your wedding day. Have fun!